These pages contain odd bits of Shin Hanga information that haven't yet found their contextual home in the Articles section or elsewhere. (Send yours in!)
Medium Rare 21 February 2002
Before the Great Fire and Earthquake of September 1923, Watanabe had published three full "travel series" of Hasui prints. Were they all lost, as widely reported?
Here's how many Hasui prints were exhibited at the 1930 Toledo exhibition, understood to be <! stocked with> supplied from Watanabe's inventory except as noted.
Twelve Tokyo Subjects, 1919-1921
11 of 12 prints, only one loaned from a U.S. collector
Souvenirs of Travels, first series, 1919-1920
13 of 16 prints, none loaned
Souvenirs of Travels, second series, 1921
21 of 30, only one loaned
Super-rare? The catalog states: "Some of the prints are no longer available, as the editions as a rule are small, but many are available and may be purchased."
Possibly the real loss to Watanabe's stock of prints, was in the next series Selection of Scenes of Japan (started 1922). About 30 of these prints were issued before the earthquake; none of these were exhibited at Toledo. The 6 post-earthquake prints in this series were all shown, as was virtually every print in the next five series thereafter (in 1930 and 1936).
---
Brain teaser:
Which was the first Hasui print issued after the earthquake?
Yoshida Ephemera 22 October 2002
Hmm.... what to get the Yoshida collector who has everything? This item was found in an old bookseller catalog:


There are several online references to it, one is summarized below. Happy hunting!
Illustrated by Hiroshi Yoshida
Enthronement of the One Hundred Twenty-Fourth Emperor of Japan

Tokyo: Japan Advertiser, 1928. Hard Cover. 1st Edition. Elephant Folio - over 15" - 23" tall. Very nice copy in both dust jacket and hardcover folder. This is "a complete account of the Enthronement Ceremonies from December 25, 1926 to December 13, 1928, together with special articles interpreting those ceremonies, and greetings to His Imperial Majesty the Emperor and the Japanese people from foreign sources." Deep purple cloth covers with bold and colorful image of bird on the front cover; gilt floral decoration on back cover. Original color woodblock print of "Himeji Castle" by Hiroshi Yoshida. All paper edges gilt. The covers are held together by two multi-colored silk ties at hinge. The book is protected with a grey cloth-covered hardcover folder with paper label. Two bone clasps secure the folder around the book. A wonderful and scarce document.
The Delimited 23 October 2002
Collectors know to be skeptical about Japanese "limited" edition notations on shin hanga prints. Western notions do not always prevail.

Better than relying on a limitation statement, is knowing the print's 'points' that might indicate multiple editions.
But here's an example, slightly less inscrutable than usual, where a clue is laid more openly: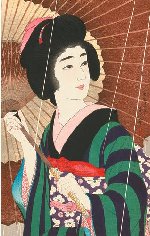 Torii Kotondo (1900-1976): One Modern Print
Entitled Ame (Rain), signed Kotondo ga with artist's seal Kotondo, dated Showa 4.10 (October 1929), title embossed in lower margin, embossed seal of publishers Sakai and Kawaguchi to lower left margin, edition notation Gaikoku yuki nihyaku mai kagiri zeppan dai juyon go (No. 14 of limited edition of 200 for export abroad) to verso, very good impression and color, slight horizontal creasing at lower right and left margins, paper tape to reverse edges, otherwise good condition. 46.5 x 29 cm
Estimate $2500 / $3500

Bi no Rumi 24 November 2002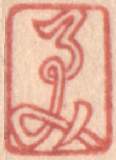 The so-called "Rumi" seal, with its distinctive cursive form, can be found on shin hanga prints by the publisher Bijutsusha. The seal has generally been read as the word "rumi", supported by no less an authority than Merritt & Yamada

and many subsequent reference materials. In particular the upper character was read as "ru", intertwined with the lower character "mi", both in Hiragana.



But we now introduce another view:
I noted many a foreign collector believed that Bijutusha's seal read "ru mi" as two letters of Hiragana in Japanese by mistake. Then I am very pleased to solve this uncertainty and to tell them what it means by proper reasoning:

Please click the image to see a large picture with five calligraphic writings derived from the Kanji character of "BI", top portion of "BI JUTSU SHA" publisher. (reference to page 192 of "New Selection for Five Calligraphic Style Dictionary" by Suzuki Kou, published by Shuhodo) Among them you could easily identify so-called "ru mi" seal with the last calligraphic style of Kanji "BI".
See Korea 25 December 2002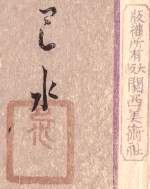 Q: What are the strange seals on this Hasui print? One looks like the "E" seal, but it's not.
A: N435 to N442 are the complete series "Eight Views of Korea", as listed in Merritt & Yamada. These were first produced in 1939 by a Kyoto or Osaka publisher called Kansai Bijutsusha (not to be confused with the Bijutsusha mentioned above). This is the cartouche seal in the right margin; the original prints also bear the rectangular Hasui stamp unique to this series.
These blocks were later acquired by Watanabe. Prints were reissued with standard Watanabe seals and sometimes with the familiar round Hasui stamp. Also acquired was the 1940 follow-on series "Korean Views, Supplement", N443 to N448, the first five of which appear in Narazaki with Watanabe "C" seals.


Quiz: what the #!&*%$! happened here?


Answer:


[ Big ]




Extra Credit: What do these examples suggest?


Answer:




<! end of "box" table >
<! ----- RIGHT COLUMN ----- >

<! grey outer box >

<! yellow inner box>

Quick Links
Odd & Ends I:

<! grey outer box >

<! yellow inner box>

Quick Links
Odd & Ends II:

<! grey outer box >

<! yellow inner box>

Quick Links
Odd & Ends III:

<! -- END OF RIGHT COLUMN -- >