Conversational Detritus 8 January 2000
Member A writes: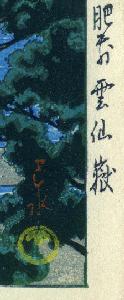 I have a Hasui print, "Mt. Unzen in Hizen Province" published by Bijutsusha, according to Muneshige's Hasui Mokuhangashu book. It has a yellow circular Hasui seal instead of the usual red Hasui circular seal, and the written part of the seal is in red instead of the usual black. Does anyone know the significance of this change of color in his seal? I am attaching a jpeg for your scrutiny [see at right].
The Hasui book title translation index which I have does not specify a year of publication for this print, only that it was done by Bijutsusha, and the book representation of it is in black and white. Can anyone enlighten me on its history? The marginal printing shown on the jpg is the only carved writing on the print. Please examine this and tell me what you think.
Helpful Member B replies:
There was no hard fast and rule that seals had to be in red only and signatures in black only. Looking at the background of the area where the signature and seal are located on this print it can be noted that the area is almost black and certainly dark. A contrast to such dark area so that seal, etc. would show up would be something light such as light yellow or white. Since other prints by Hasui had black and red (2 colors so to speak) it was probably the choice of Bijutsusha to have light yellow for the seal and in this case red for the signature. Looks quite nice don't you think?
As for the lack of date: Only two of the 6 Bijutsusha Hasui prints were dated and the dates were 1927 (the first one) and 1931 (the last one). According to my collected wisdom (my database) Bijutsusha produced prints for Kawase Hasui and Yamakawa Shühö only. My database is not infallible but the dates given include the period from 1927 to 1931. Convenient? No. Simply, that is all I have found to report. It would be safe to assume then that the print here was done around 1930. It was numbered as the 5th. design by Muneshige and the last design the 6th. was done in 1931.
The last point, the kanji in the margin of the print reads "Hizen no Unzen (or sen) ga" which translates roughly to "craggy mountain Unzen in Hizen (province)." Hope all this helps...
Grateful Member A again:
Thanks for your information on my Hasui print. Your logic seems reasonable about not placing a dark seal over a dark area of the print, however on many other prints they simply placed it over a lighter area, the exact location seeming to be dictated by an aesthetic balance with the composition.
Do you have any information about the placement of seals within a composition, and whether it is based on any other considerations than that? The seal issue in prints seems very traditional, or consistent, and I wondered therefore whether this may have been a special edition, a proof, a sales sample, or some such thing that would therefore call for a different representation of the seal.
In your knowledge, did Bijutsusha change the color of the seal in any other of Hasui's prints they did?
Now Member C jumps in:
Another tidbit in response to your question.
There was a small folio published of the New Eight Views, which is mentioned on ShinHanga.net -- available to members here.
The 8 prints are tiny (real) woodblocks, carefully and accurately reproducing all 8 Bijutsusha oban prints. Only one of these small ones, your print B6 "Mt. Unzen in Hizen Province", has the red and yellow. All the others had the regular black and red.
To me this sort of indicates that the "standard" (and probably only) state of this oban print had the red and yellow. Perhaps an experiment, and no more. Maybe this is what drove Hasui to drink....
Member A once more:
Thanks for the additional tidbit. Is it the case then that I have the only known print by Hasui to sport the yellow seal? Interesting.
Has anyone done a comparative study of printing quality between the different publishing houses?
Member X:
Hey, no more questions for you.