My first encounter with a shin hanga print was back in 1995 when I visited an exhibition sale of authentic handmade goods at a department store in Tokyo. I bought a woodblock print of nostalgic Tokyo scene because I just liked it with no knowledge of shin hanga history including artist, publisher, carver nor printer. Afterwards I learned some on shin hanga and I knew that it was a later edition print by Tsuchiya Koitsu.
Then I learned more on Japanese woodblock prints and I am very curious to know why such a lot of shin hanga prints were exported for overseas. Until I happened to visit this ShinHanga.net site in 1999, I never imagined that so many issues were discussed on woodblock prints at our clubsite. In Japan shin hanga collectors are in the minority compared to Ukiyo-e collectors. I hope much more collectors should recognize the values of shin hanga prints.
As I was born in 1949 Tokyo and my mother language is Japanese, I could have an advantage in understanding almost all Japanese characters including calligraphic writings. So I am very glad to be of any help for overseas collectors to read or translate relevant information.
My favorite artists are Koitsu and Hasui especially for their Tokyo scenic views. I am also a collector of Senshafuda (Ukiyo-e and Lettering World in Miniature); my name seal to the right is an example.
Enjoy your favorite shin hanga prints in your own ways!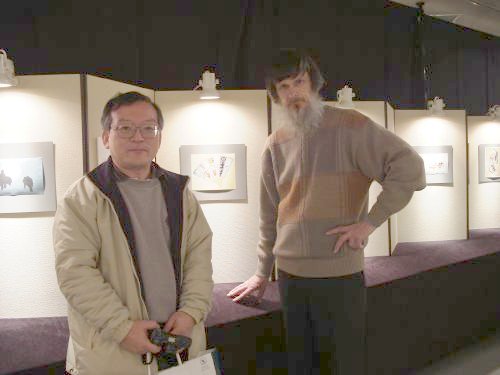 Tosh Doi and Dave Bull in Tokyo, at an exhibition of Dave Bull's prints. The image directly behind them depicts seven Senshafuda examples. This collaborative effort is described here.

<! ----- RIGHT COLUMN ----- >